For The Love Of Pizza. Two Best Friends Open Variety Store And Takeout In Morriston.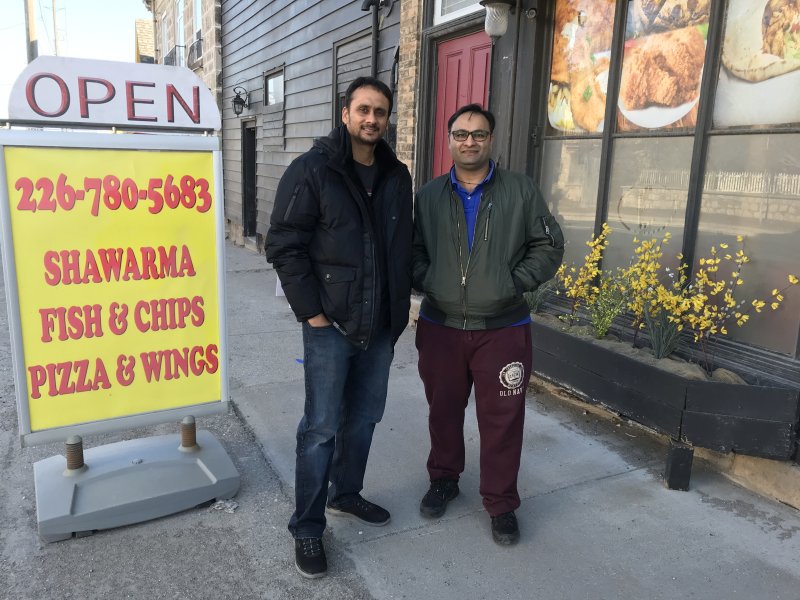 I sat down (prior to COVID19) with Parth Patel and Sam Patel (no relation) to find out what the new tenants of the Envers location had in store for the community. While they share the same last name they are not related. But they should be, because what I saw was two young men who seem to be irrevocably bonded together as if they were blood brothers.
When you first meet Sam and Parth you might wonder what the chemistry is that draws you to their aura. If they were a comedy duo then Parth would definitely be the straight man to Sam's funny stories. I could have listened to them enraptured all day long. When you visit their store whether it's to pick up a basic necessity or get their imaginative and tasty Middle Eastern inspired take-out, you might just want to get to know them as they are very interested in being a part of the community. In fact, they want your feedback, so feel free to tell them what you'd like to see on the shelves and refrigerators in the store.
So how did this come to be? Two fellows arrive in Brampton, Canada in the same year (2007) and get a job at the local pizza restaurant. Like lighting a match they struck up an immediate friendship. But five years later they went their separate ways and did not come into contact again until years later. Parth, with his entrepreneurial spirit found a location in Carlisle that was perfect for a dry cleaning business as well as an LCBO outlet. The young men had kept in contact for a while but as often happens lost touch. In 2015 Parth decided to pick up pizza from the nearest place just five minutes from his house. It was kismet that he walked in and there was his old friend Sam. After the friends reunited Sam got married and moved to Guelph. There, in conjunction with his wife, he went on to own the Mini-Mart and Takeout on Waterloo Street, which they continue to run to this day.
That fateful reunion inspired them to find a business they could run together. One that would draw upon Sam's passion for food and Parth's skills from when he was a project manager in the mechanical engineering industry. The Envers property was the perfect location, between their two current businesses, they could run this together.
That brings us to now. Envers Country Store and Takeout reopened last Friday, June 5 and by the posts on Facebook it was a welcome comeback. Both Sam and Parth want to deliver new flavours to the community and it was natural that they would offer pizza since that's how they met and re-met. And it's what Sam launched first at his takeout in Guelph. But this is no average pizza. Much experience, knowledge and research went into making what they consider the perfect crust. A light, crispy texture so you can enjoy the toppings and it doesn't fill you up, with the outer crust smeared with a garlic spread so you can enjoy it to the last bite. If you are like me, when I finish a pizza my plate is piled high with crust I haven't eaten. I look forward to trying this Patel Pizza creation to find out if it will change my mind about leaving the crust behind. There are interesting combos to try such as chicken shawarma pizza which had at least one local resident very happy by his rave review on Facebook last Friday.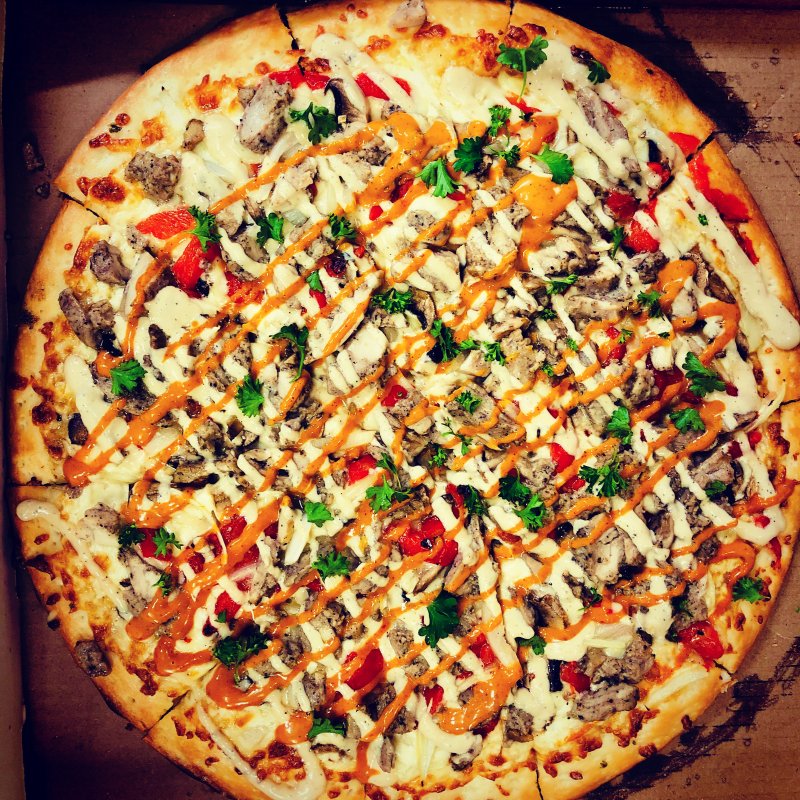 Sam has perfected his fish and chips recipe, and rumour has it a certain mayor shows up often at his Guelph location to feed his family. He really knows how to make a great batter (his wife's recipe) and cook the haddock perfectly. With the twist I am coming to expect from them, the batter has fresh herbs in it, which was Parth's contribution and really elevates this family favourite takeout item. Sam really cares about your fish and chips experience so he has created a method to package it so the food doesn't "steam" and get soggy in the box on your way home. It gets there still nice and crisp. I'm telling you, it works. This is a fish and chips with homemade tartar sauce you need to try.
The boys wanted to bring a third signature dish to their menu and it was a "chicken" journey that Parth has been on since he came to Canada that turned on the proverbial lightbulb. He came here a vegetarian but found himself filling orders at the pizza place for chicken on pizza, chicken wings etc. He was up to his elbows in chicken half the time so his friends and fellow employees egged him on to try it. He learned they were on to something so he added chicken to his (almost) vegetarian life style. Which introduced him to Chicken Shawarma. He absolutely fell in love with this dish and every time a new shawarma restaurant would open he'd be there checking it out. Sitting in one of the umpteenth places eating his now favourite meal it hit him that this would be perfect as their third signature offering. Parth figured, "if everybody can make it, we can make it." Indeed he did. Parth set off on adventure to research all the best shawarma recipes to come up with his own ultimate signature seasoning. I've had the shawarma. The toppings are fresh, the garlic sauce is homemade and it is seriously delicious.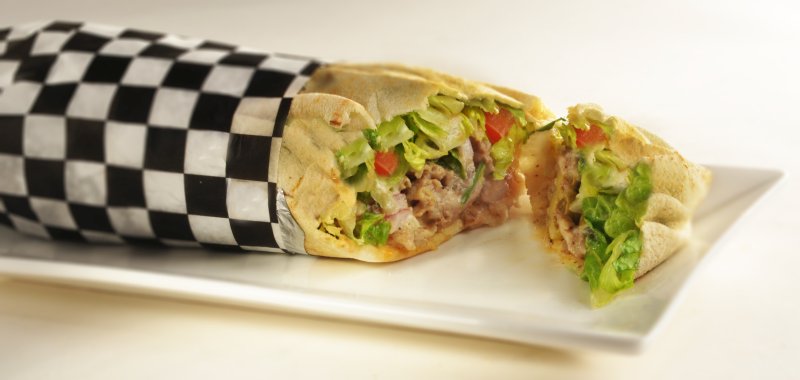 Right now Envers is a convenience store in the making. Parth tells me that they want to focus on the takeout portion of the business right now and build their community by "giving good food to the people that live here." There's a suggestion box in the store where you can add your wants and wishes for products sold. Me, myself and I think that milk, (local) eggs, juice and artisan bread would be just the ticket.
After many delightful stories about how they came together Sam summed it up quite nicely "we prefer to prepare food we ourselves and our families prefer to eat." Well that makes sense why their food is so fresh and good. These two best friends met so many years ago and admitted that "sparks flew" when they decided that one day they would open a business together. Let's be grateful they picked Puslinch. Please welcome them to our community and FOLLOW ENVERS GENERAL STORE AND TAKEOUT ON FACEBOOK
And when you see Parth you can congratulate him and his wife on the birth of their new baby boy!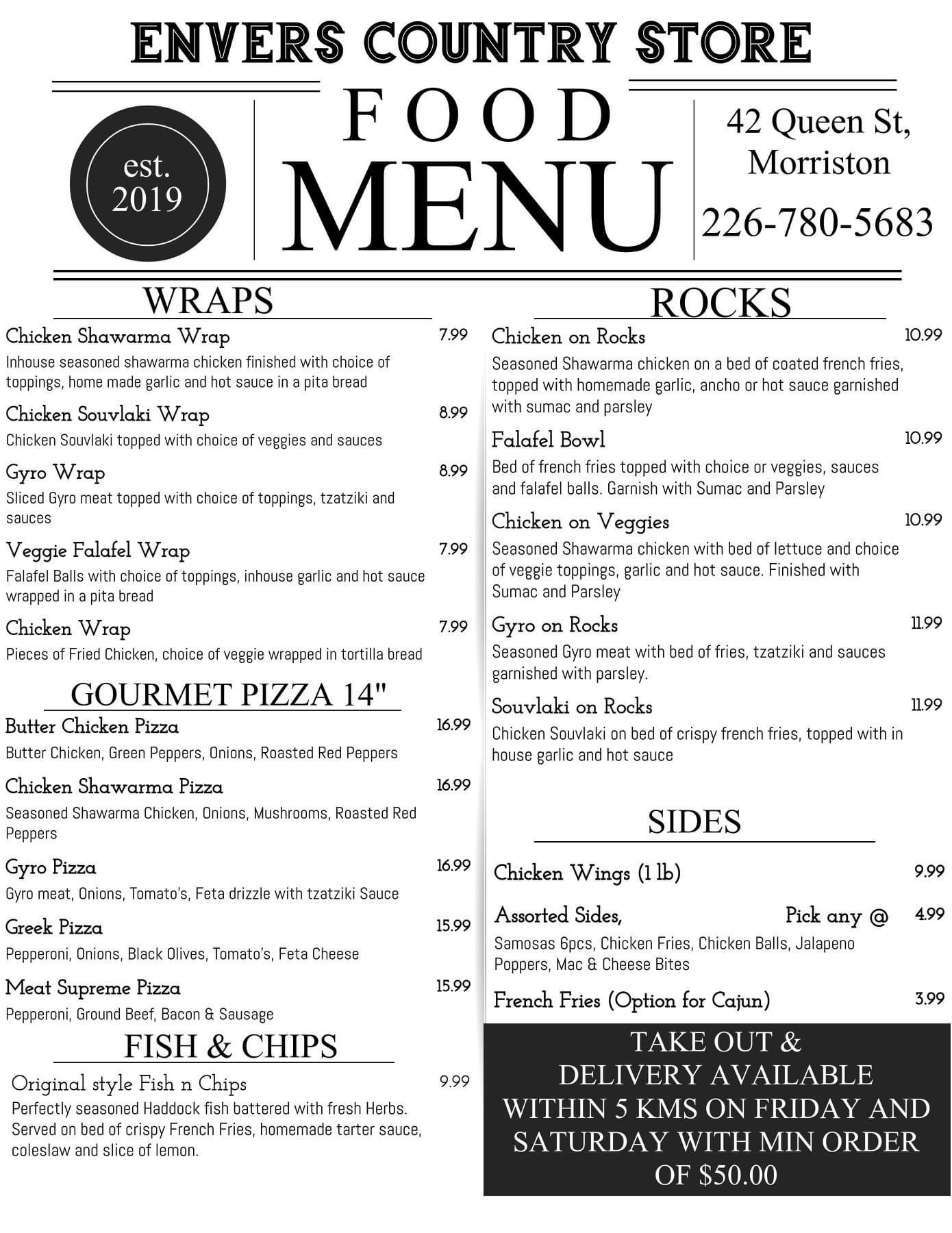 (click for full size image)