Enver's of Morriston Patio Feature of the Week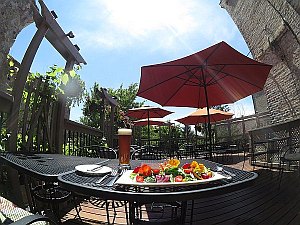 Last week I took my husband and my Dad to Enver's for Father's Day. We celebrated a day early but I
couldn't resist! We savoured every moment as we sat out on the patio and enjoyed a lovely breeze
while we supped on a most marvelous meal.
I love trying local craft beers and last week was Wellington Brewery's Special Pale Ale. Full of flavor, delicious and refreshing – the perfect choice to go with the charcuterie board that we all shared.
This week's Patio Feature is another tantalizing reason to go back again. Grilled AAA rib steak with baby arugula, roasted radishes from Enver's own garden and grilled red onion for $25. Try a glass of the feature wine with it for $8.
See you on the patio!