Enver's of Morriston BBQ Dinner Featuring Trotter's Butcher Shop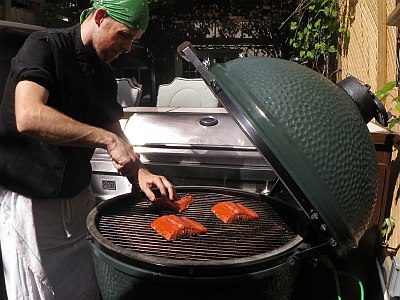 The Big Green Egg. The foodies in my family all have one. Some even have two. So what is it? It's widely acclaimed as the best kamado-style ceramic charcoal barbecue offering the "Ultimate Cooking Experience." I know this to be true as I have enjoyed many a succulent meat grilled on this amazing and interesting contraption.
The Big Green Egg will be making its magic this Saturday, July 4, so come to Enver's and enjoy an evening of grazing featuring the flavors of the "Mediterranean"!
To start the evening an introduction to "Trotter's Butcher Shop & Charcuterie": Brent will showcase their product which is house cured using locally sourced meats.
Then a relaxed evening with the barbecues fired up! There will be craft beer and wine specials. Price is $50/person. Please call the restaurant at 519-821-2852 or email [email protected] to make your reservation.
Don't hesitate! It's guaranteed to be an awesome evening!