The Best Butternut Squash Soup EVER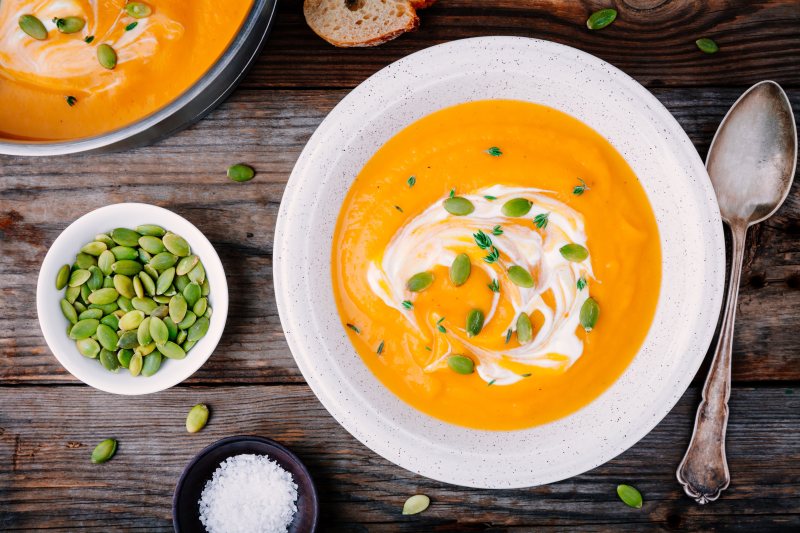 I was reminded this past weekend of a yummy butternut squash soup recipe I made last year at a family dinner on Thanksgiving at my step-daughter's home. I love to bring soup when asked to make something for a family dinner. Soup is my thing. But aside from that my motives are selfish – serve the soup – then enjoy a lovely wine the remainder of the dinner while I watch everyone else toiling over their creations!
Last year I was rewarded for my efforts, or lack of so to speak, with an unexpected bonus. I have the good fortune of being a part of a very extensive and very lovely extended family. And sometimes I still get to meet a tribe member I haven't met yet, despite the two decades of my membership. There were a particularly large number of guests that day and since I was serving the soup I hadn't had a chance to meet everyone yet. After the soup had been dispensed I managed to find a spot to settle in and enjoy my own serving. The woman next to me had just finished hers and then proclaimed that I was in for a treat because the soup was "absolutely sublime" and that something like this could be found in a fine dining restaurant. I sipped a couple of sips, turned to her and surprised her by saying "thank you."
Her unsolicited applause to the stranger sitting next to her was one of the best compliments I've ever received. So if, like me, you enjoy the praise of a good dish made with love, and want to get it all done at the beginning of the party, I give you the Best Butternut Squash Soup Ever. Oh, and I always help with the cleanup.
Best Butternut Squash and Apple Soup
Makes 12 one cup servings
INGREDIENTS
2 T butter
2 T olive oil
3 large yellow onions, coarsely chopped
2 T mild curry powder
2 garlic cloves, minced
2 large butternut squash
5 McIntosh apples
3 cups chicken stock
1 T Better Than Bouillon® Roasted Chicken Base
2 cups half and half cream
DIRECTIONS
Peel the squash, cut in half and remove the seeds. Cut the squash into chunks. Peel, quarter and core the apples. Cut into chunks. Set both aside.
Heat the butter and olive oil in a large pot over low heat. Add the onions and curry powder and cook, uncovered, for 15 to 20 minutes, until the onions are tender. Add the garlic and cook for one more minute.
Add the squash, apples, and 3 cups of chicken stock to the pot. Bring to a boil, then cover, reduce the heat to low and simmer for 30 to 40 minutes until the squash and apples are soft. Remove from heat and let cool.
Blend the soup with a hand blender until it's a thoroughly smooth and silky texture. Return the pot to the burner on low heat and add the bouillon. Stir until blended in. Add the cream. The consistency of the soup should be a bit thick. Feel free to add more chicken stock to get your preferred consistency. Add salt and pepper to taste and serve hot. TIP: accent the soup with any of your favourite toppings such as pumpkin seeds, croutons or crème fraiche.
Disclaimer: This particular soup is based on an original recipe by Ina Garten, but I've changed so much about it I have adopted it as my own.