Enver's of Morriston Patio Feature of the Week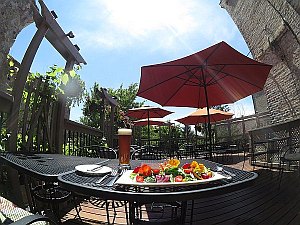 For those of you who know me, you know really good food is a passion of mine. Since we moved here in 2007 I have discovered a lot of gems in Puslinch that keep me coming back for more. The first New Year's Eve here we celebrated at Enver's and I immediately fell in love. With the food. And the ambiance. And the staff.
And just when I didn't think it could get any better they opened their patio. We have enjoyed wonderful repasts on balmy summer nights sipping a cool chardonnay or two on that lovely patio overlooking the owner's garden where she grows some of the food that ends up on your plate.
Now there is even more reason to show up on their doorstep. All summer long they will be offering Patio Features at affordable prices – inspiring me to grab a few friends and meet them on the patio for a delicious light meal and a beer!
This week's patio feature is Grilled beef flatiron entrée salad $18.00, add to that a craft draught for $6/pint or a feature wine for $8/6oz.
Every week check back here at Puslinch Today to find out what wonderful delight the Patio Feature has in store for you. Local and fresh.