Enver's Brings A New Concept To The Table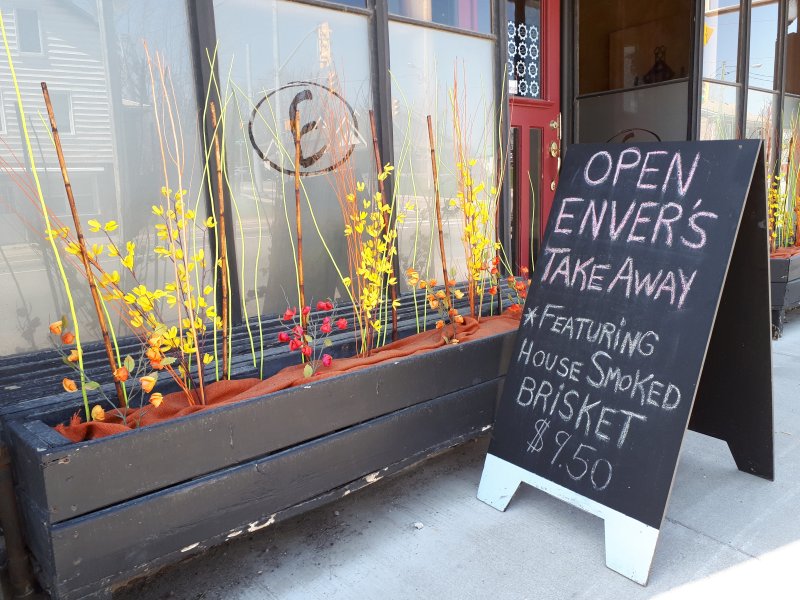 I'm standing in the new Envers pondering their blackboard menu with absolute delight. Tantalizing meals ready for me to take home and savour. Such as House Smoked Brisket Sandwich with caramelized onion jam, ancho-bourbon bbq sauce and mozzarella on a baguette. Or maybe Sweet Chili Baked Salmon with pineapple salsa and a choice of two sides, some of which include Smoked Tomato Rice with Zucchini or for a simpler palate – potato salad or creamy coleslaw. I've come to meet with Terri Manolis, Enver's owner and, as long as I've known her, a devout foodie with a deep passion for really good food. Now that Enver's has reopened I want to find out for myself just what is new about it.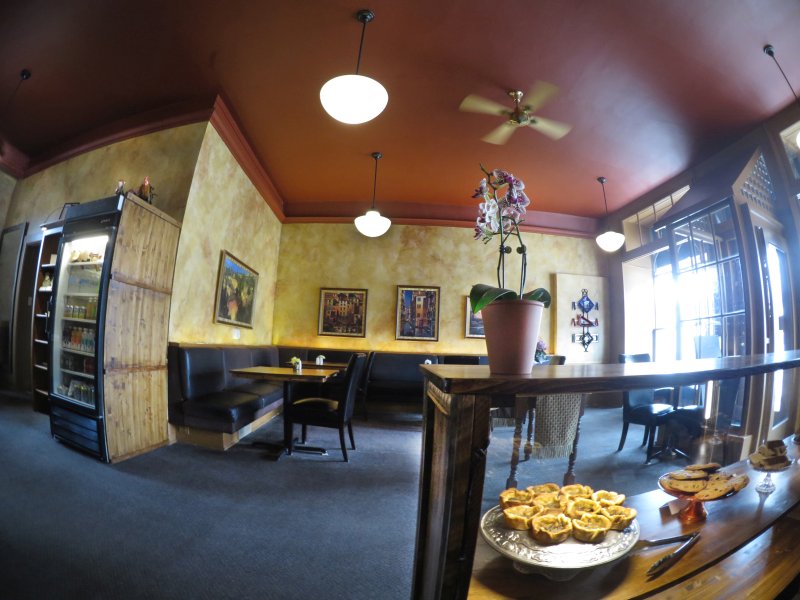 This isn't your parent's Enver's. Gone are the white tablecloths and crystal, replaced by a casual rustic country atmosphere with counter service. Manolis herself is the friendly face at the counter ready to take your order from the new menu of take-out items to bring home on that busy day when you just don't have the time to cook. What else is gone? The prices regulars have come to expect of the fine dining establishment the last 18 years. Now the menu sports sandwiches from $8.50 to $9.50. Single serving meals accompanied by those two sides are all under $16.95. With the same attention to quality and flavor, this is casual food at its best with value for everyone. You can order online and schedule pick up, enjoy the casual seating available or now that summer has arrived (what happened to spring?) take a place on the patio overlooking their very own garden.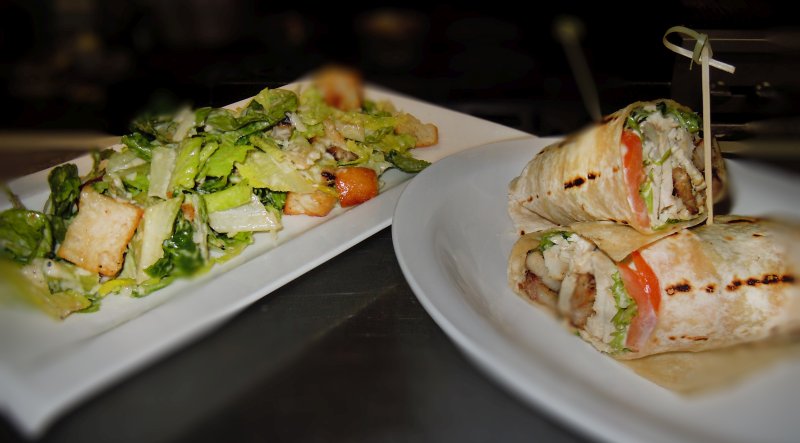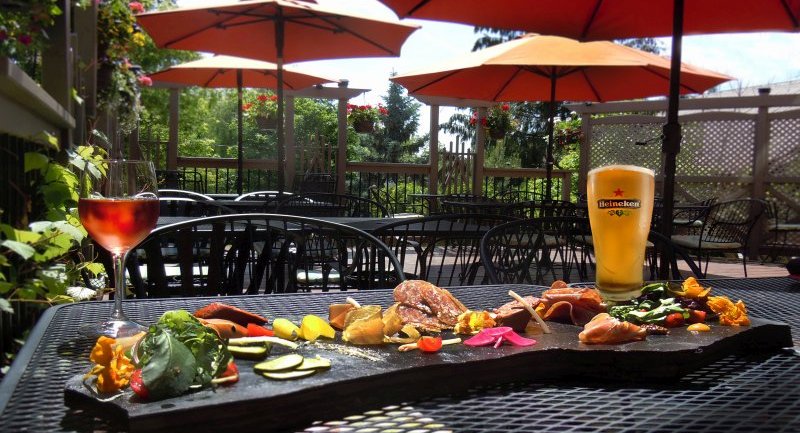 The one constant is the focus on sourcing all their ingredients locally. Most everything served from scratch comes from Ontario with the closest source being the garden where they can just walk out the back door and pick fresh herbs and veggies. Now that's local. Chef Craig Moore smokes the beef brisket and ribs in house, bringing his 30 years of restaurant experience to Enver's. Manolis has known Chef Moore for a very long time through his wife Katie, who previously was the sommelier at Langdon Hall. When she left that position she went into the business of wine and was a supplier that stocked many of the fine wines that can still be found in Enver's cellar. They remain fully licensed so you can sip a good wine or beer with your meal.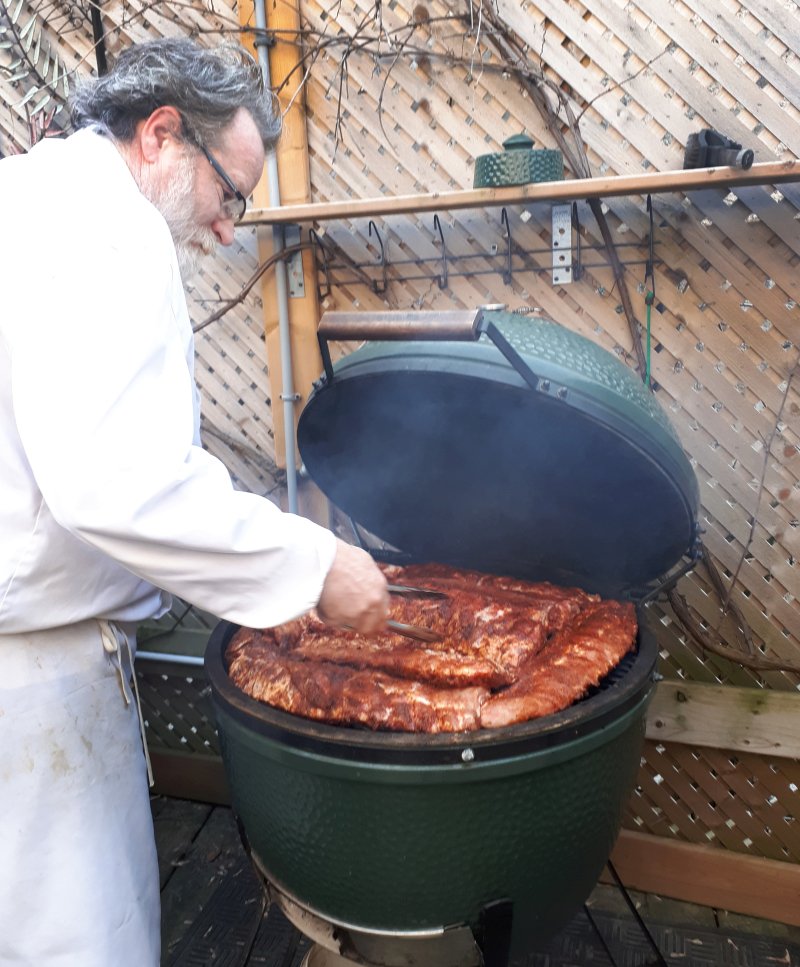 Enver's also supports local food businesses by carrying an assortment of Roothams preserves, jams and sauces, made right here in Puslinch with local ingredients. There is a display of Kitchen Connaisseur Culinary products as well. And just this week another addition to product in the storefront is a local company called Apple Flats (out of Wellesley) that hand pick crabapples and make an amazing sour apple crabapple mixer…definitely the go to for cocktails this summer! Plus two crabapple jellies that Manolis tells me are "outstanding."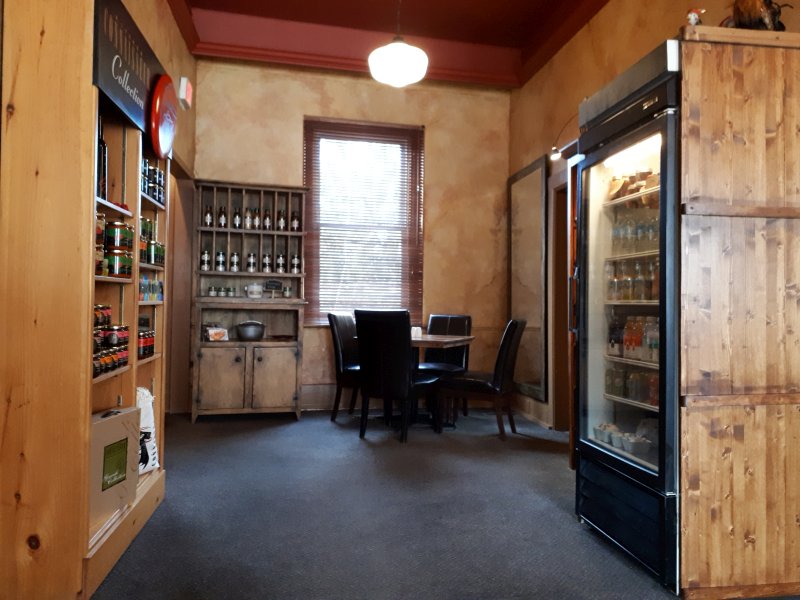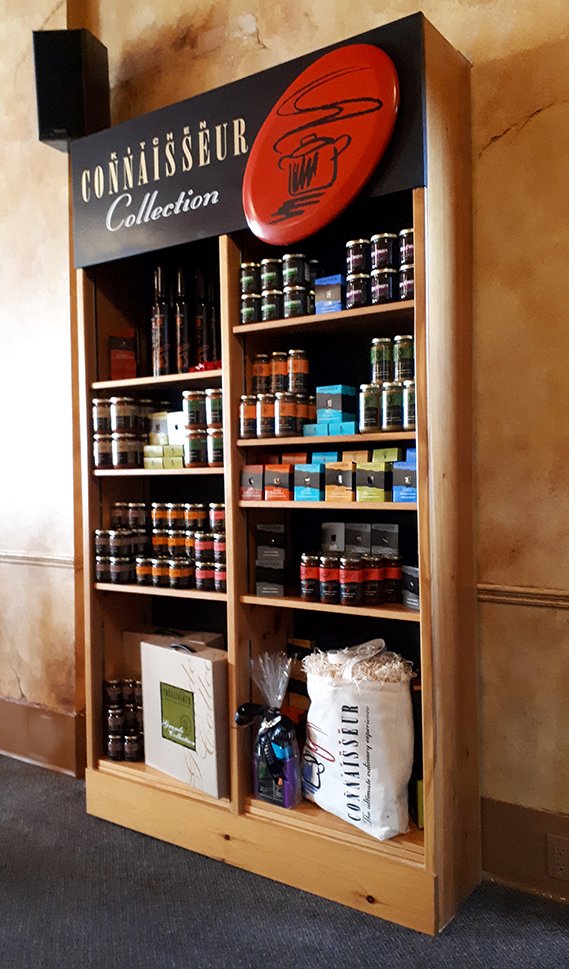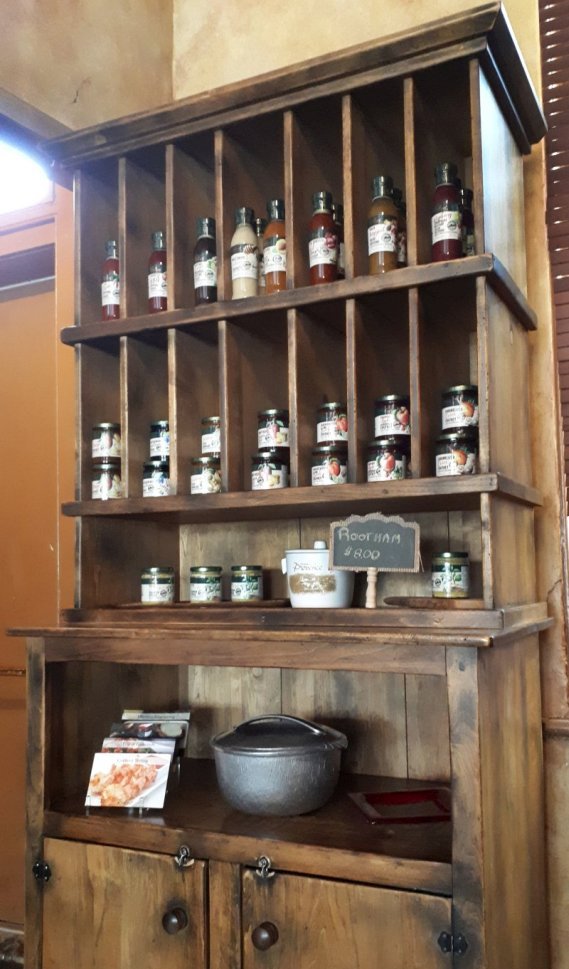 I asked Manolis if she considered changing the name to market this new concept. It was something she pondered for quite some time and considered the fact that she bought the restaurant from Enver in 2000 and he started it in 1982. She ultimately decided that Enver's of Morriston has cultivated and nurtured an excellence that they will continue to deliver, so it made sense to simply shorten the name to Enver's to reflect the new casual experience. She tells me that "customers can confidently count on the same quality and flavours that they've come to expect from Enver's."
But this isn't all that's new. Manolis used to own The Miller's House in Aberfoyle, which was a storefront with ready to go meals and a back room for functions. Terri has a flair for entertaining, so catering and planning functions for people and businesses is where her heart truly lies. Every day you can find a menu of hors d'oeurves at the counter, ready to pick up and bring home to supplement a last minute back yard barbeque or soiree with friends. But the options are limitless if you call and plan ahead. The day I was there the hors d'ouerves du jour included their own duck liver pate with fig jam, mango chutney and toasties; wild mushroom crostinis; and oysters with mignonette. YUM! There is a delightful suggestion at the bottom to "just add wine!" My kind of gal this Terri Manolis!
With Mother's Day approaching Enver's will be offering take-out for Mom so she doesn't have to cook. And neither do you. Why not "bring Enver's home to Mom" to celebrate the other 364 days of the year she cooks and cares for your family?
Manolis will bring her mastery to your table and cater any event from a small casual get together to a big celebration or a business function that deserves great innovative and local food. She can customize a catering menu for you while cleverly fitting your budget. If you don't want to do the clean-up either there is the beautiful downstairs room for functions and business meetings. If you've never been downstairs I can tell you it a wonderful rustic atmosphere that reminds me of Old Montreal where I grew up and my parents raised me to appreciate good restaurants.

What better way to end this story than with dessert? I love me a good fun fact to entertain my readers and when I asked Terri to share something interesting I find out that Chef Moore's father is the unofficial Guru of Butter Tarts. When he retired he found a new purpose in life. To find good butter tarts. He and his wife can often be found hopping in the car, jauntily travelling far and wide around the province to search for the perfect tart. I discover that Mr. Moore is hard core about what makes a really good tart. The filling can't be too runny or too solid. The pastry needs to be just so. Etc. etc. When Chef Moore decided to specialize in a butter tart as part of Enver's sweet offerings, he knew where he had to go. He baked multiple versions and brought them to his Dad to taste test. It resulted with the "Moore Stamp of Butter Tart Approval" and now you can enjoy these wonderful artisanal butter tarts with a deliciously flaky pastry and a caramel center that will make you swoon. Well you didn't expect me to leave without something to take home right?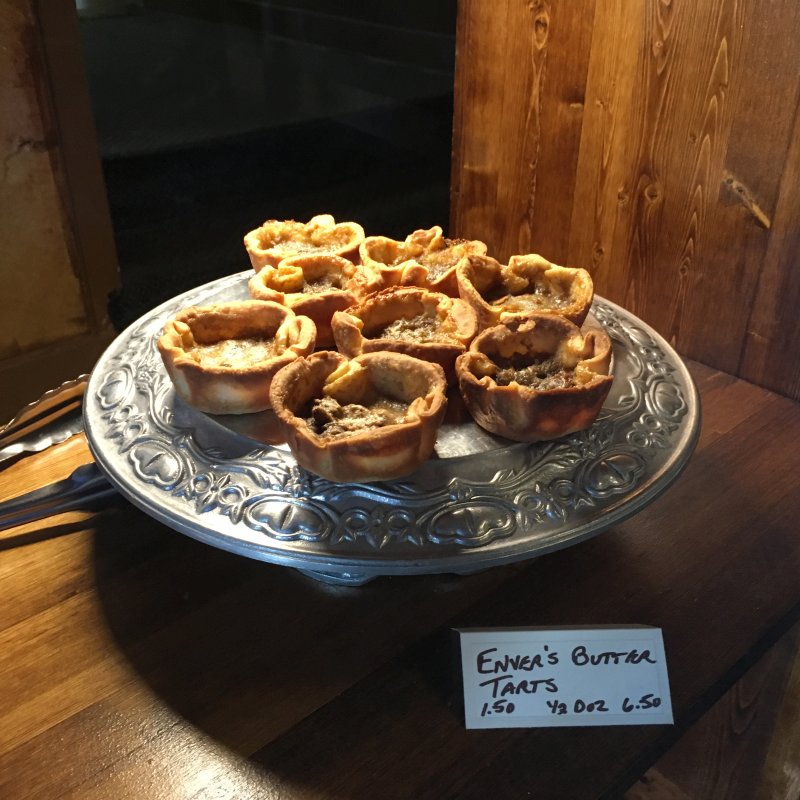 Photos by Daina Makinson & William Knetsch